When it comes to enjoying a fulfilling life in retirement, few things add more meaning and joy than a social connection. In fact, ask any senior what their most treasured moments are, and they will invariably talk about special occasions or shared moments with loved ones.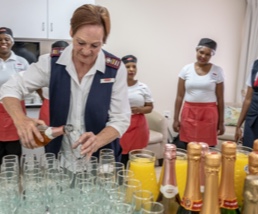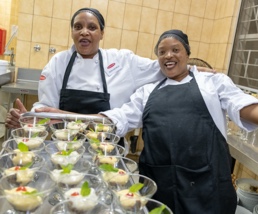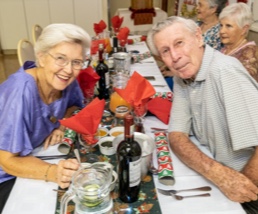 From birthdays and anniversaries to Christmas and beyond, it's important to take every opportunity to spend quality time together and celebrate special events with our elderly loved ones.
1. Socialising is essential to happiness
A recent Harvard study tracked hundreds of people's happiness levels over the course of more than 80 years. The results showed that the happiest people weren't those with more money, success or good looks. Instead, true happiness was a result of social wellbeing, community engagement, and having close relationships throughout their lives. A link between a decrease in mental deterioration and meaningful human interaction was also found. Even genes weren't considered as big an influencer of happiness.
2. It promotes a sense of belonging
Seniors often fall victim to feelings of isolation and loneliness. These emotions have been proven to negatively affect mental and emotional wellbeing, which in turn can lead to physical decline. By celebrating special occasions with your elderly loved ones, they experience a sense of belonging, safety, love, and support. Even if you can't be there in person with your loved one, simply sending a card or making a phone call will remind them that they are loved and remembered.
3. Special occasions encourage seniors to reflect
Many seniors, especially those who struggle with memory decline, feel distanced from their past. Special occasions such as birthdays and anniversaries are the perfect time to look back on life and reflect on the many experiences and milestones that led to this point. This enables them to appreciate the meaningful life they've led and provided a sense of identity, self-worth and confidence.
4. It gives them something to look forward to
The anticipation of an upcoming social event with friends and family can be almost as fulfilling as the event itself. When seniors know that they will soon be celebrating with their loved ones, it improves their mood and outlook on life. Preparing for the event, such as buying a new outfit, making decorations or choosing a cake, can also give them a sense of purpose and involvement.
At Totalcare, we believe that celebrating milestones such as birthdays and holidays are essential to ensuring the happiness and wellbeing of our residents. Our dedicated staff take every opportunity to provide seniors with celebratory treats and social gatherings that remind them that they are loved, valued and appreciated.
Christmas Day at Totalcare will be made special for all our residents and we would like you to know that your loved one will have a merry Christmas Day thanks to our selfless and dedicated staff.
For more information about our world-class retirement villages and sophisticated facilities, click
here